Outside General Counsel Services
As a small or medium size business, there are certainly legal services you need from time to time but you may not have the budget for a full-time in-house lawyer.  That's where we come in.  Ideally, we will become a part of your team and a close advisor but at a fraction of the cost of hiring an in-house lawyer.  With Snyderman Law Group, you will get a flat fee monthly rate so that there are no surprises with your legal services.  You can call us as many times as you want, you will still only pay one monthly flat fee.
Many law firms are marketing themselves as outside general counsel but they are simply offering the same traditional law firm model: they charge you by .6 of an hour and then send you a bill at the end of the month that will make your CFO jump out of his/her seat.  But more importantly, they don't have the expertise needed to understand you and your business. The attorneys at Snyderman Law Group have decades of experience in each of the following areas:
(1) In-House Counsel (including for a $60 million dollar a year technology company, a $100 million dollar a year international company operating in 35 countries, a $150 million dollar a year internet business, a $30 million dollar a year government contractor, startups, and more);
(2) BigLaw (including in leading Corporate Transaction and Regulatory groups);
(3) C-Suite Executive business positions (as CEO, President, SVP, VP); and
(4) Management and Business Professional Consulting advising over a dozen startups and early growth companies."
We had excellent outside attorneys working for us.  However, it was our job to take the information they gave us and apply it to make the best decisions for the business.  We have the ability to tell you what your legal obligations are and then go further and tell you how our advice applies to your business.  The value proposition we offer is tremendous because of the two hats we wear: we are your legal business advisors.
Some of the things we can do for you as your outside general counsel include: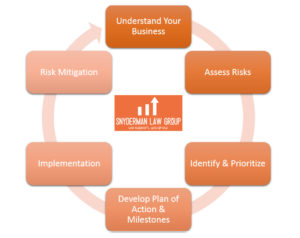 We start with a holistic risk management process and develop a comprehensive strategic plan with you to meet your goals.  Our process is depicted in the figure to the right.
Review any contracts that you receive
Draft all of your contracts including subcontracts, confidentiality agreements, service agreements and much more
Advise you on employment issues including hiring, firing or disciplining employees
Protect your Intellectual Property
Attend internal business meetings and provide operations advice
Ensure that your business is compliant with all applicable regulations for your industry
Draft your employee handbook and code of ethics
Help identify potential acquisition targets
Negotiation real estate leases as well as real estate purchases and sales
Supervise outside legal counsel